SOLUTIONS FOR A SMARTER HOME
ENTERTAINMENT
EA Series Controllers
From one room to an expansive property, each controller delivers the power, performance and reliability for any smart home.
Enjoy a premier multi-room music experience; featuring advanced audio architecture and high-resolution music.
Each model has the power to also control and automate lighting, security, climate, locks, cameras and more.
4K Ultra HD
Enjoy 4K video in every room.
In a single interface, watch video from a Blu-ray, satellite, Apple TV, Roku, streaming media service, or your stored movie library.
No additional equipment needed in each room—keep it clean with only the TV and a remote
New "My Movies" and "My Music" Experience
Enhanced browsing with high-resolution cover art, a new details view and an improved search feature for large media libraries.
Connect and share music directly from your iOS mobile devices without any additional equipment.
New Streaming Audio Services
Pandora, TIDAL and Deezer join the already-native Rhapsody, Napster and TuneIn lineup available as part of every Control4 system.
With the all-new ShairBridge, anyone in the house can share and stream their own music collection from iOS smart phones and tablets, or computers running iTunes.
SMART LIGHTING
Mockupancy
Your home records day-to-day interactions—including lights, shades and entertainment—and plays them back while you are away.
SAFETY AND SECURITY
Locks & Sensors
Manage locks from anywhere in the world on an iOS or Android device.
Add or delete users and grant temporary access to any lock in the house.
Search event history, such as security incidents, and get detailed activity information.
Receive notifications via mobile alerts and push-notifications that are timely and relevant.
PERSONALIZED WALLPAPERS AND SCREENSAVERS
Enjoy multiple configurations and displays such as playing media, date, time and weather. And use family photos in the screensaver of wallpapers to truly make it personal.
APPLE WATCH APP
Single-button control of your most popular shortcuts and scenes to set a mood or make a quick change.
See what audio or video that is playing in each room, change the volume, add additional rooms, or turn everything off.
See all thermostats in your home, adjust the temperature, and apply presets.
Control individual lights in any room or activate lighting scenes.
Check status of locks, unlock or lock doors, and open or close garage doors.
Control your home from the comfort of your couch or while you're away.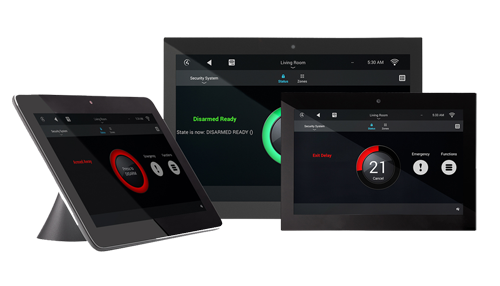 Intelligent Interface
You're heading out for the day. All of the doors lock, the lights turn off and the security system arms. All you had to do was press an "Away" button to orchestrate it all. As you arrive, the garage door triggers the alarm system to disarm, the door to unlock and the kitchen lights to illuminate a safe pathway for you.
Making The Switch
Customizable buttons allow you to control more than just lighting—including music, movies and more—with a simple press. Turn on or off multiple rooms, or the entire house, with one tap. Motion sensors provide hands-free illumination and automatically turn off lights when no one is in the room. Your home can even alternate lights to appear occupied while you're away.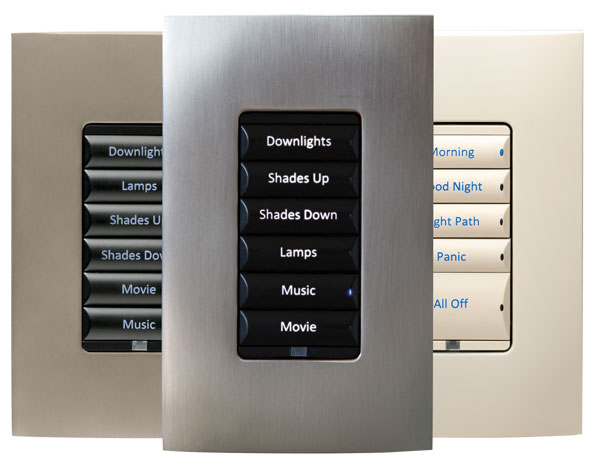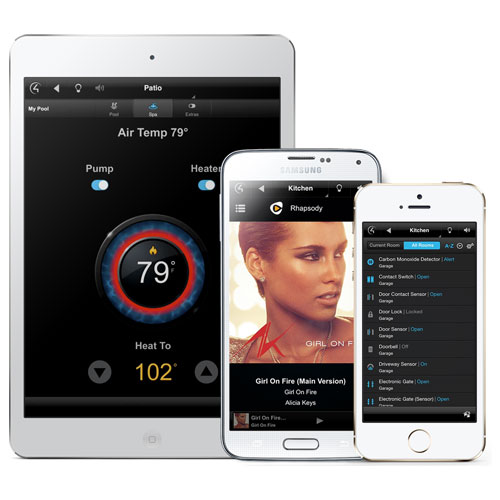 Works Across Multiple Devices
Control4 works with over 8,000 products from hundreds of trusted manufacturers—ensuring that your favorites will always work with your system. Roku, Nest, Sonos, Apple, Kwikset, Sony, Lilin and more! Contact us for the complete list of compatible products.
AUTOMATE YOUR
LIGHTING

,

ENTERTAINMENT

,

SECURITY

, CLIMATE AND MORE
LET CONTROL4 SET THE SCENE
Create the perfect movie ambiance in one touch. Tell your thermostat what to do from Thailand. Manage music in multiple rooms. Get a text when your teenager comes home. Control4 gives you flexible solutions to design the home automation system of your dreams on a very real budget.
SEE IT WORK
VIDEO EXAMPLES