What is home automation?
Smart Home Automation by Control4 has the mastermind solution, making it possible for virtually any appliance or device in your home to intelligently communicate with another—from locks to lights, doors to drapes—and you have the ability to control them, no matter where you are.
Create the perfect movie ambiance in one touch. Tell your thermostat what to do from Thailand. Manage music in multiple rooms. Get a text when your teenager comes home. Control4 gives you flexible solutions to design the home automation system of your dreams on a very real budget.
Life's better when everything works together. This is your home with a brain. A genius idea, indeed.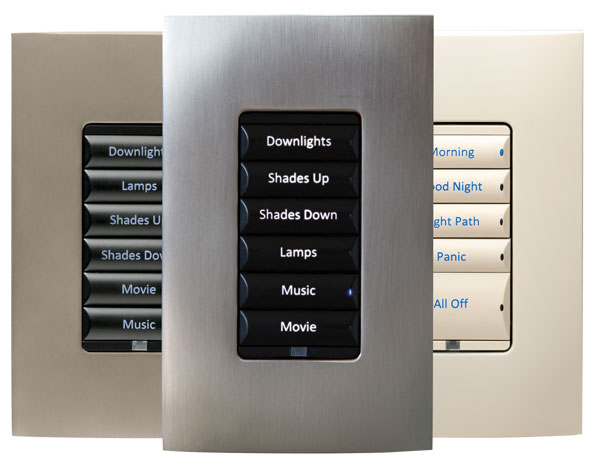 Maybe you'd like to make the perfect ambiance possible in every room. Or perhaps you're just looking for a few easy ways to save energy. No matter what your intention, intelligent lighting with Control4 Smart Homes is always a bright idea. Here are just a few brilliant examples:
Have the lights in the house turn on automatically to welcome you home.
Program the lights to go on at sunset and off at daybreak, or set them to replicate your normal usage pattern when you're out of town so it looks like you're home even when you're not.
Experience hands-free illumination when entering a dark hallway; motion sensors can make sure you never have to fumble around in the dark.
Turn the whole house off in one touch with a "Good Night" scene—some lights can go completely off as the kids' dim to 10%.
Program your lights to turn off automatically when a room is unoccupied for a certain amount of time.
Set your lights to a maximum level of 80%; your eyes won't notice the difference but your utility bill will!
Your kids work hard all day to turn on every light in the house. Now you can turn them all off in one touch, right from your bedside table—or even your smart phone. A "Goodnight" scene turns off all lights in the house and ensures that exterior lights are turned on to keep unwanted visitors at bay. If your little ones wake in the middle of the night, smart motion sensors will trigger a path to the bathroom or kitchen, automatically. Pre-set at 30%, the lighting path will be suitably soft and sufficient with no need to walk from room to room in order to flip a switch. Lighting can even be used for an added level of assurance. If you hear a suspicious noise, one touch of the "Panic" button activates every light in the home while flashing exterior lights. Experience High End Home Automation Today! Visit our showroom for a demo!
With Control4 Home Automation, it's easy to take advantage of intelligent automation that contributes to a more comfortable home—and a more efficient planet. Here are just a few ideas:
Program your shades and thermostat to automatically adjust for maximum energy efficiency based on the seasons, time of day or outside temperature.
Control your thermostat from any Control4 interface—even your iPhone.
Use dimmers, timers and occupancy sensors to reduce energy waste.
Use motion sensors to turn lights off automatically when rooms are unoccupied.
Program your pool and sprinkler systems to source water only during energy-efficient windows.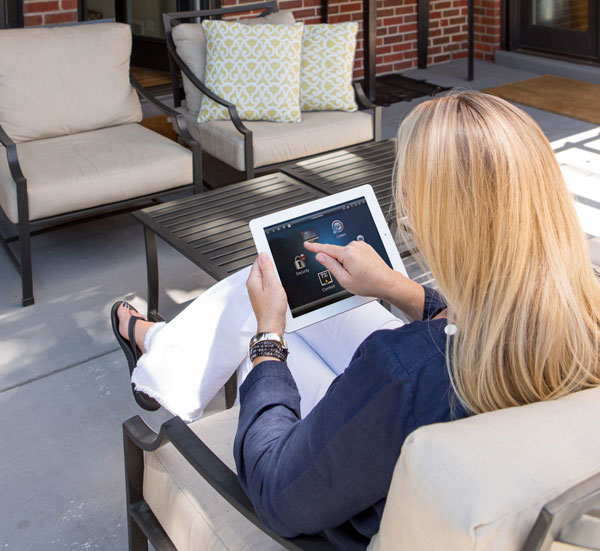 Have a room with a beautiful view? With Control4® automation solutions, it's easy to leverage natural light to save energy. Depending on time of day, automated shade control allows the room to be naturally illuminated during the day, using the sunlight as a source of heat, saving energy, while using overhead and lamp lighting at night. "Movie" and "Music" buttons can be used to set the perfect lighting, audio and video settings for instant entertainment. One press dims the lights, lowers the shades, and selects the correct audio and video settings to commence the movie of your choice.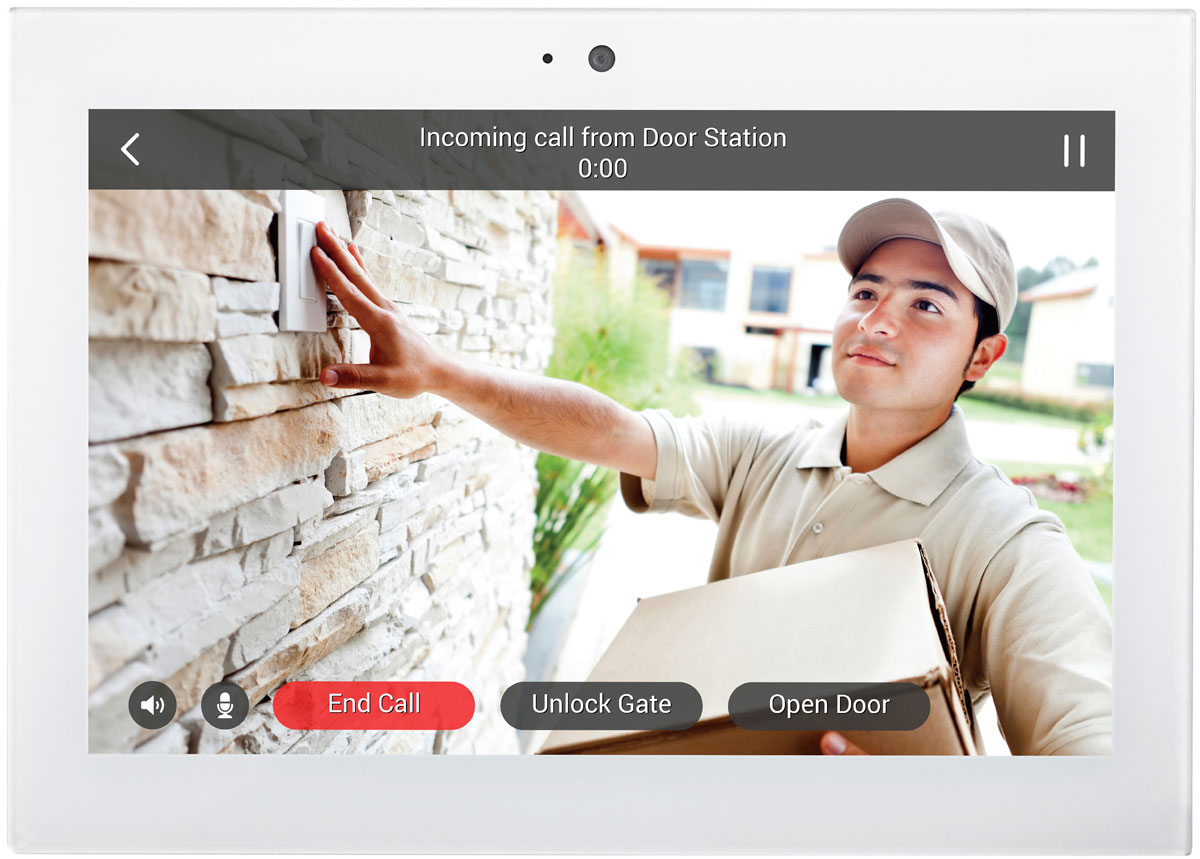 Little peace of mind goes a long way. That's why Control4 Smart Homes makes it easy for you to enhance the safety and security of your home in a number of ways, including:
Receive email alerts based on security-related actions, e.g. garage door left open, the security system is triggered, a window is opened, etc.
Assign temporary security codes for the times/days when service workers are at your house
Use IP cameras to keep an eye on your home, no matter where you are
Set controls to give the kids limited or no access to the TV or PlayStation3
Lock the whole house in one touch
Access your security features from your mobile phone
Program your lights to mimic your usual patterns to appear as if you're home, even when you're not
Employ elder-care specific features including interactive communication via email and instant message to keep an eye on loved ones
Intelligent security gives you peace of mind knowing your family is safe and secure, while at home or away.. Using the Control4® App, you can easily monitor cameras tha are placed inside or outside of your house. Remotely view live security camera footage straight from your mobile device, and take command of your home, whether you are downstairs or downtown.
Whether home theater means a cozy corner of your living room or a screening room with theater seating, you'll appreciate the flexibility of Control4 solutions when it comes to enjoying your favorite entertainment at home. It can bring music to every room! Here are just a few examples of what you can do with Control4 Smart Home Automation:
Simplify your audio, video, and home theater components with one remote to control all
Turn your television into an elegant interface from which you can access and control your entire home
Access all movies in your multi-disc changer, iPod or NAS drive from one interface, and search by cover art
Create a one-touch scene to lower the lights and shades, plus adjust the temperature to create the perfect ambiance for movie night
Play music from multiple formats and sources, including radio, streaming music services, your iPod/mp3 player, an external hard drive or computer
Choose to hear classical in the den, Blues in the kitchen, and rap in the teen's room—all at the same time
Access to all of your songs in any or all rooms anytime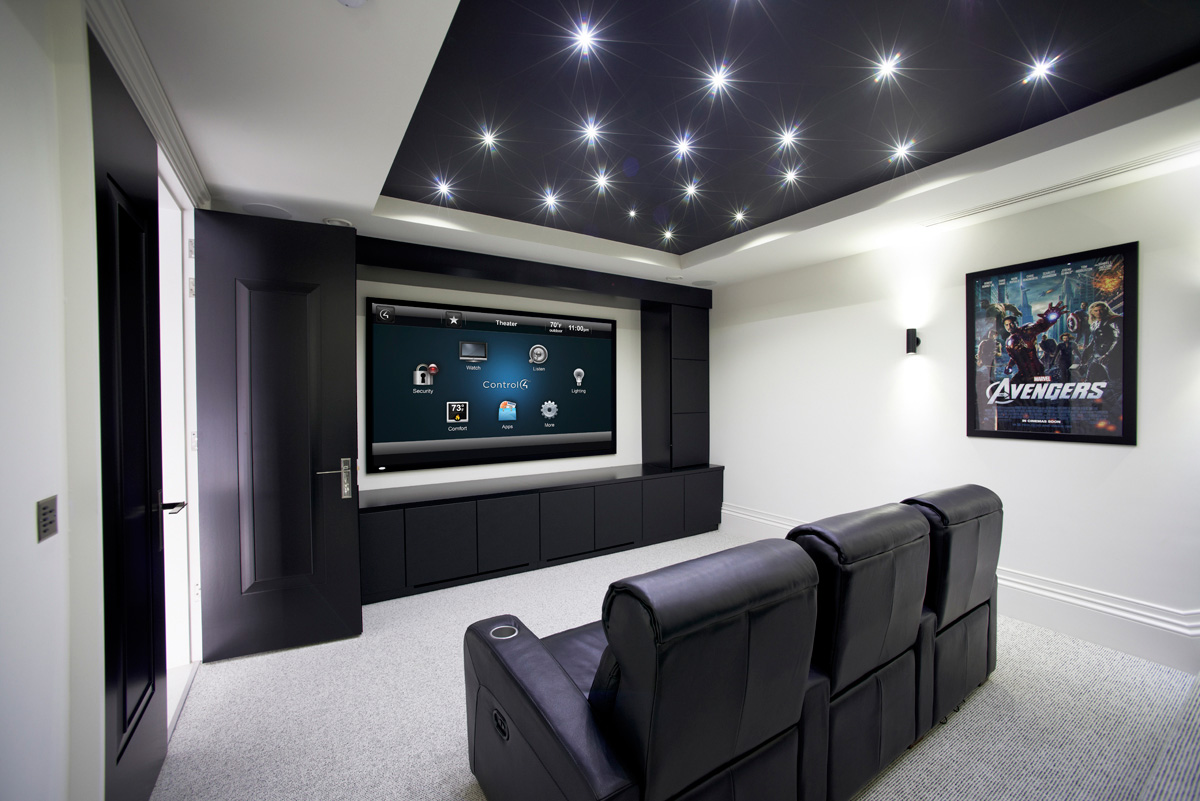 Put music and video at your command with Control4. Stream high-fidelity sound to every room in the house. Play high-definition video from virtually any source, on any TV. Enjoy your personal music collection stored on your smart phone or tablet, or stream services like Spotify® and Rhapsody™, plus thousands of free Internet radio stations throughout the house. Enjoy the convenience of keeping your audio and video sources in one location and accessing your favorite content from any room. Gain total control of all your media, without disparate electronic components scattered throughout the house. You can enjoy BBC in the kitchen, while your kids listen to their favorite Pandora stations in their bedrooms. Control4 media distribution solutions make it easy for everyone in the family to enjoy their favorite music and video anywhere in the house, instantaneously. Experience High End Home Automation Today! Visit our showroom for a demo!
Service Areas: Toronto, GTA, Woodbridge, Mississauga, Kleinburg, Vaughan, King City, Scarborough, Oakville, Brampton, North York, Brantford, Bradford, Cookstown, Barrie, Wasaga Beach, Aurora, Newmarket, Etobicoke, Maple, Thornhill, Richmond Hill, Markham, Oshawa, Pickering, Whitby, Ontario, Canada